Do You Need A Powerflush In Maidstone?
KMC Gas carries out Powerflushing in Maidstone and the surrounding area.
We use a combination of two central heating cleaning systems combined.  The latest Kamco power flushing machine combined with a Magnacleanse, double magnet system that collects the broken down particles of magnetite as pictured below.  KMC Gas uses the most effective chemicals when carrying out a Powerflush in Maidstone.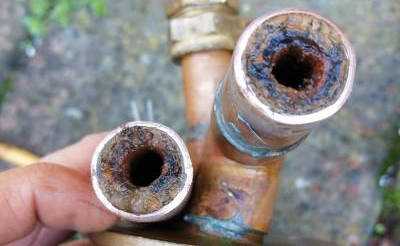 Some of the the signs I need a Power Flush in Maidstone are:
If you have a combination boiler the main symptom is the hot water going hot and cold, especially in a shower.

Radiators tend to collect the particles of Magnetite in the middle at the bottom, making this a cold spot and the rest of the radiator hot or have uneven heat distribution.

When a system needs a powerflush some radiators tend to be only lukewarm and sometimes these radiators will change.

Excessive noise and banging will identify a blockage or partial blockage in the main heat exchanger.

If your boiler cuts in and out quickly, this is also a sign there is a blockage.
What causes a system to require a Powerflush?
A Central Heating system requires a Powerflush when it becomes clogged up and blocked with particles of Magnetite

Magnetite is created when the oxygen in the Central Heating System water reacts and corrodes the metals of the radiators and pipes.
When a heating system or boiler is installed it should be flushed and corrosion inhibitor added to the Central Heating System Water, but this is not always done.  Resulting in a breakdown of the metals which collect on components in the Central Heating System causing breakages and blockages.  It can also be caused by the inhibitor levels diluting over the years or the central heating system being drained down and inhibitor not being put back in
Book your Powerflush in Maidstone today
Fill out the form below and we will contact you ASAP.